Real Art from Artists Like You
Customer Reviews
Write a Review
Ask a Question
Filter Reviews:
experience
tutorials
process
Sarah
home
crew
medium
mystery
Natalie
04/03/2019
"Owl" Be Painting Again!
Just adore LMA, Sarah and the whole crew! Watercolor painting seemed an unobtainable mystery for decades. I often see owls around my home and can't believe I painted one myself! Thank you all so much!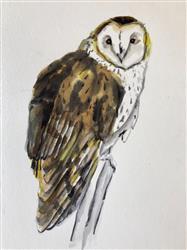 04/03/2019
I loved the tutorial and doing my first painting!
It was fun and a great experience! Sarah made the process approachable and quite simple, which I never would have imagined. The step by step techniques opened up a whole new medium that I never thought I could master!!
01/31/2020
AWESOME TIME
I had a wonderful time painting this wonderful bird. My boyfriend also enjoyed the handmade gift of his favorite animal.
05/07/2019
Barn owl
This seemed hard, but as all of Sarah's tutorials go, she breaks them down for you and before you've noticed it, you've painted an owl!!!!! A real owl!!! Sarah is so patient and tells us not to be hard on ourselves and it takes take to see the beauty in your work. Each time gets better and better!!!!
Learn with Let's Make Art
Supplies Used to Make This Project
If you want to skip the kit, everything you need to complete this project is featured below!
Why Brushes Are Sold Separately
TLDR: If every kit came with a brush, you'd have way more brushes than you need!

The option to purchase brushes on an as-needed basis sets you up to create the brush collection that best suits YOU!
Brushes do wear out, so we recommend replacing your brush every 4-6 months or when the tip isn't holding a point fine enough to your liking.
If you're new, here's a few brushes we recommend starting with.